What is SIP Trunking?
SIP Trunking is a communication method that replaces traditional phone lines with internet-based connections. It uses Session Initiation Protocol technology to establish, modify, and terminate voice communication sessions online. This approach eliminates the need for physical links to a phone company and allows businesses to run their entire phone systems over the Internet, making it cost-effective and efficient. In simple terms, SIP Trunking seamlessly integrates your private business phone network with the Internet, offering a more flexible and economical solution.
SIP Trunking Operational Mechanism
SIP Trunking actively converts voice and video signals to digital data packets for transmission over the Internet. The recipient receives these packets and converts them into voice or video signals. This procedure is efficient, cost-effective and guarantees quality communication.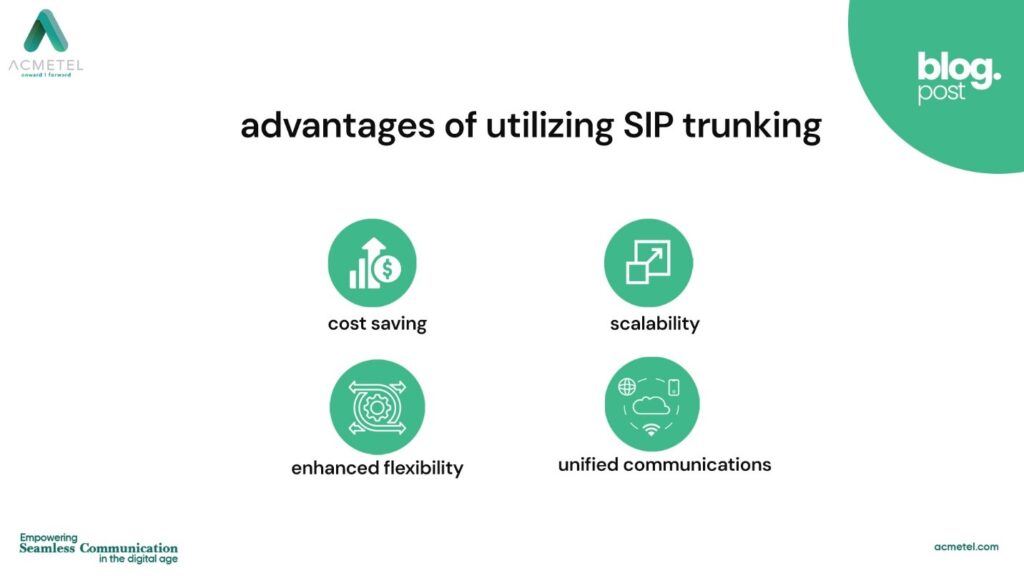 Let's look at a few of the most common benefits of SIP Trunking.
Cost-Savings
SIP Trunking offers significant cost savings, potentially slashing huge expenses compared to traditional phone providers. Businesses with long-distance calling needs benefit from lowering charges by reducing call travel times. Moreover, SIP eradicates or minimizes landline rental fees and allows for a tailored purchasing approach, avoiding bundled PBX expenses. In short, SIP represents a budget-friendly way to protect and maximize your investment in your current PBX system. 
Enhanced Flexibility
SIP Trunk removes geographic constraints in telecommunications, offering the freedom to choose phone numbers without worrying about location. Global businesses benefit significantly from obtaining virtual phone numbers with local area codes, enabling them to establish a local presence in various regions. Consequently, customers can reach your business using cost-effective local options rather than overpriced international ones. 
Scalability
SIP Trunks offer scalability, allowing you to adapt to varying phone traffic needs. For instance, if you run a small café with increased holiday call volume, you can easily add more channels for the holiday season and reduce them during quieter times. By selecting this option, the service will charge you only for the time you use, providing flexible and cost-effective payments.
Unified Communications
SIP Trunking offers a solution for integrating your devices, mobiles, home phones, office phones, and computers into a unified communication system. It achieves this by assigning a single address to each device. Using only your SIP address of record simplifies communication by excluding the need to sort through multiple numbers.
Winding It Up!
By adopting SIP Trunking, businesses can achieve cost-effective and efficient communication. This technology impeccably combines traditional phone systems with the Internet, eradicating the necessity for physical phone lines. Getting virtual phone numbers with local area codes benefits global businesses. In short, SIP Trunking streamlines operations and represents a significant stride towards the future of business connectivity.